The Campaign for Safer Consumption Sites receives broad support in Lowertown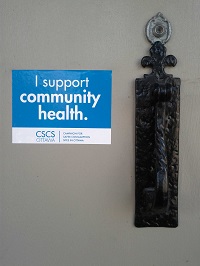 Volunteers for the Campaign for Safer Consumption Sites in Ottawa (CSCS) went door-to-door in the Byward Market and Lowertown this past weekend to engage with the community, and received broad support for their campaign from residents.
In their first weekend of canvassing in an ongoing campaign, CSCS volunteers consulted with over 100 households. At each home, residents were asked whether they would support the creation of a public health facility where people could use their own drugs under medical supervision.
An overwhelming 78% of those responding said they supported the implementation of a supervised drug consumption site in Ottawa, and 65% said they would welcome such a site in their own neighbourhood.
"In dozens of conversations, residents told us that drug use is an important health issue in their community," said CSCS organizer Greg Cameron. "The vast majority of people we spoke with believe that Ottawa needs supervised consumption sites, to help reduce public drug use and to address the health crisis facing drug users."
A study released last year revealed that Ottawa has the highest rate of new HIV infection among people who inject drugs in Ontario. The same study suggested that a supervised injection site in Ottawa could result in health care savings of over 3 million dollars due to averted HIV and hepatitis C infections. (TOSCA, 2012)
"Key goals of supervised consumption sites are to get drug use off the street, and connect people who use drugs with health and social services such as addiction treatment programs," said Cameron. "Most residents we talked to in the ByWard Market believe that these are objectives we should be working to achieve in Ottawa."
CSCS is a grassroots campaign of community members who advocate for the opening of safer places for people to inject or inhale drugs. The group plans to continue its public engagement campaign throughout the spring.