Breaking the Taboo
Join us on Thursday, Jan. 17 at 7pm at the Arts Court Theatre, as we present Breaking the Taboo as part of OPIRG's Resistance on Reels Film Festival!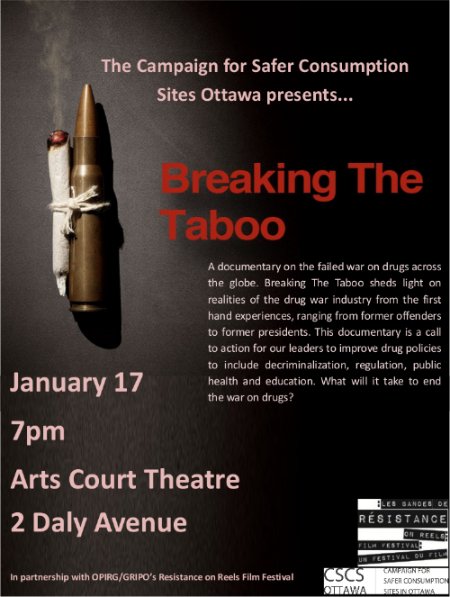 A documentary on the failed war on drugs across the globe, Breaking the Taboo sheds light on realities of the drug war industry from the first hand experiences ranging from former offenders to former presidents. This documentary is a call to action for our leaders to improve drug policies to include decriminalization, regulation, public health and education. What will it take to end the war on drugs?
Stick around following the film for a discussion on the themes of the movie including the stigma against drug users, and the need for evidence-based policies in Ottawa.
Breaking the Taboo was directed by Cosmo Feilding Mellen and Fernando Grostein Andrade, and is Narrated by Oscar-winning actor Morgan Freeman. Featuring interviews with current and former presidents from around the world, such as Bill Clinton and Jimmy Carter, the film follows The Global Commission on Drug Policy on a mission to break the political taboo over the United States led War on Drugs and expose what it calls the biggest failure of global policy in the last 40 years.
The Arts Court Theater is on the second floor and can be accessed by an elevator. There are steps to get to the upper level seating, however, the lower level seating can be accessed without stairs. Free snacks will be served.
Find out more about the Resistance on Reels Film Festival, organized by OPIRG Ottawa. The festival will screen films that resist colonialism, capitalism, environmental destruction, patriarchy, ableism, racism, classism, homophobia, transphobia, and other forms of oppression.