Conservative government threatens community health and safety with Bill C-65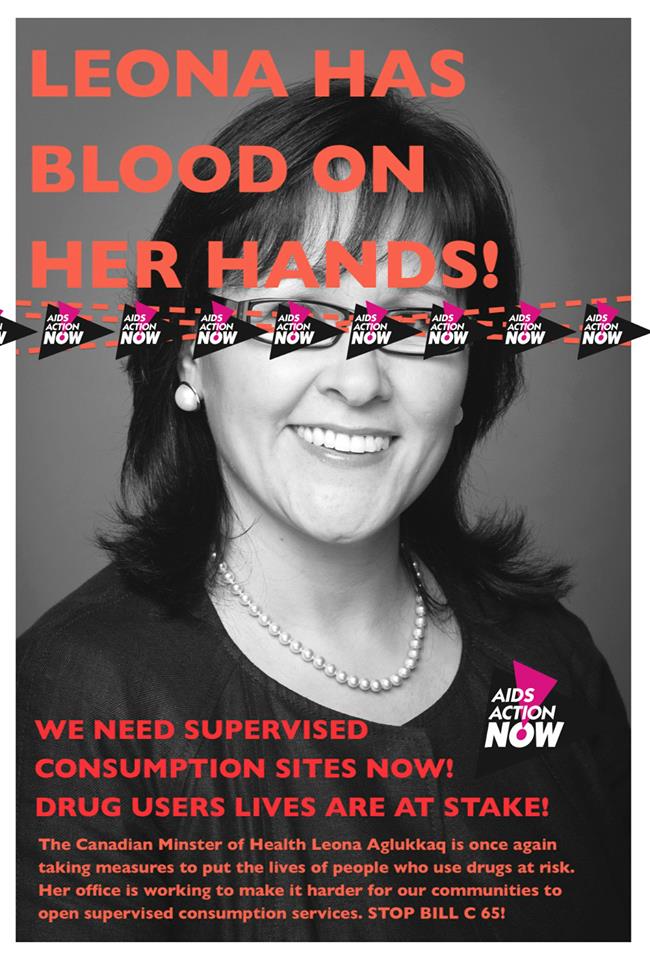 Our friends at AIDS Action Now! posted a powerful response to the announcement by Minister Aglukkaq of new rules being proposed by the government to restrict the opening of supervised consumption sites in Canada:
In 2011, the Supreme Court of Canada ruled that the Minster of Health Leona Aglukkaq actively violated the Canadian Charter of Rights and Freedoms by trying to shut down Vancouver's supervised consumption service Insite. Despite this ruling, the Minster is at it again. Today Aglukkaq launched Bill C-65 known as the "Respect for Communities Act". Despite the semantic public relations games being played with its name, the act itself does nothing but attack, degrade and violate our communities. "We desperately need these life-saving services, but Bill C-65 is aimed at making it more difficult for the opening of supervised consumption services that support the health and human rights of people who use drugs" said Zoe Dodd of the Toronto Drug Users Union.
CSCS stands in solidarity with AIDS Action Now, the Drug Users Advocacy League, the Toronto Drug Users Union, Pivot Legal Society, the Canadian HIV/AIDS Legal Network, the Canadian Drug Policy Coalition, the Canadian Harm Reduction Network, the Canadian Nurses Association, the Canadian Medical Association, and many other groups and individuals across Canada who oppose the Conservative government's attempt to impede access to vital health care services for substance users.
In 2011, the Supreme Court ruled with respect to Insite that "Where, as here, a supervised injection site will decrease the risk of death and disease, and there is little or no evidence that it will have a negative impact on public safety, the Minister should generally grant an exemption." Bill C-65 flies in the face of that ruling, imposing many obstacles to the creation of supervised consumption sites. With its Bill, the Conservative government is endangering the lives of thousands of people in what amounts to an attack on the health and human rights of people who use drugs throughout Canada.
Now, more than ever, our campaign needs your voice. Sign our petition in support of supervised consumption sites in Ottawa, and share it with your friends.
Let's show the government that Canadians stand behind these life-saving health facilities.
P.S. - The Canadian Nurses Association has created a petition urging the Health Minister to improve access to health & treatment services for people who use drugs, instead of creating more barriers. Please sign and share!