OD Awareness Day 2013 demands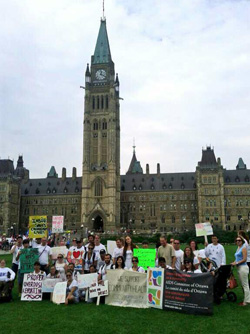 At the Overdose Awareness Day rally held Friday in Ottawa, Gilles and Kelly from DUAL read the following statement, recognizing the accomplishments of harm reduction advocates over the past year and calling on the city to meet further demands for the health and safety of people who use drugs.
CSCS stands firmly with DUAL and supports the call to health care leaders and politicians to take action now to prevent further deaths in our community.
"Before we state our demands, we want to recognize some important progress that has been made over the last year in the City of Ottawa. A year ago, on Overdose Awareness Day we demanded access to naloxone a safe drug that immediately reverses opiate overdoses and prevents death. Over the last year Ottawa Public Health rolled out the peer overdose prevention program which gave access to naloxone at the street level. While we need greater access to naloxone, we must recognize that this is a big step that came from the demands of our communities."
"Last year we also demanded greater access to overdose statistics from the provincial coroner. We now have greater access to the numbers of people who have died from overdose related causes. Again, this came from the demands of our communities."
Overdose Awareness Day 2013 demands
Safer injection services now! Overdose deaths can be prevented, but not if the person is alone.
Open access to Naloxone
We need evidence-based health care and treatment that is accessible.
We need to end the stigma against people who consume drugs. We need to strengthen our community through evidence and action.
We need to treat drug use as health issues instead of using criminal punishment. We want our dollars spent on health care and housing.