Overdose Awareness Day 2013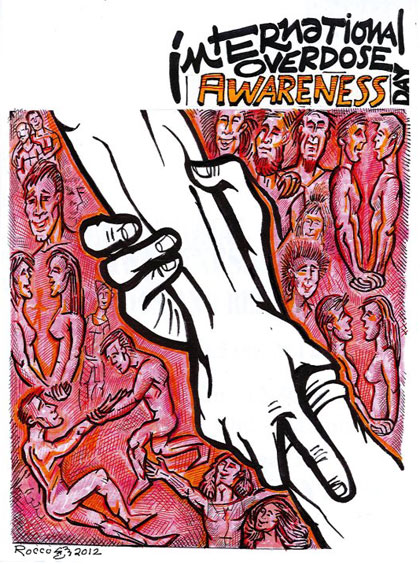 We are marking International Overdose Awareness Day 2013 in Ottawa on Friday August 30th, and invite you to join us.
The event will start at 11am at the Human Rights Monument on Elgin St. in front of City Hall with a call to action and speeches.
At noon, we will walk to Parliament Hill for the performance of an Overdose Awareness Day song by local artist Michael Dalton, followed by a moment of silence to remember those who have lost their lives to overdose.
For more information, visit Ottawa Overdose Awareness Day on Facebook.
Overdose Awareness Day has been a key remembrance event for those who have died from fatal drug overdoses since 2001. For Overdose awareness day thousands of people worldwide will stand alongside the friends and families of fatal overdose victims to reflect on those who have been lost. The event is organized on the understanding that no-one need feel shame or disgrace over a drug overdose.
Overdose Awareness Day offers all who have been affected by overdose a chance to publicly mourn and help the wider community understand that fatal overdose profoundly affects mainstream society.
The day also serves as a warning that not only illicit drugs can be dangerous and no-one is immune to overdose.
With the number of fatalities from prescription drugs growing Overdose Awareness day is also a chance to see that medicines are not always our friends. Painkillers and other pharmacy drugs play an important medical role but their careless use can have tragic long-term consequences.
Participation in International Overdose Awareness Day is free, and anyone wishing to be involved is encouraged to join in.