Overdoses in Ottawa a preventable problem, say activists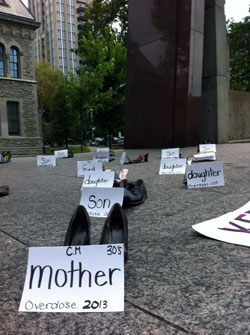 1 person dies every 10 days in Ottawa from a drug overdose
A group of health-care workers and former drug addicts held a rally and silent walk Friday to draw attention to overdose deaths in Ottawa, with some arguing for a safe injection site for the city.
Saturday is International Overdose Awareness Day around the world, but in Ottawa the local chapter of the group behind the day held it Friday to draw attention to what they say is a preventable problem.
The group met at the Human Rights Monument on Elgin Street, where they placed 36 pairs of empty shoes — marked with labels such as son, daughter, friend and veteran — to represent those who have died of overdoses in the last year.
Gilles Dupuis said he recently lost two friends to the prescription drug fentanyl, and said he's had close calls himself. "Me personally, I've overdosed seven times, flatlined twice. So I am lucky to be alive," said Dupuis.
405 overdose deaths from 2000-2011
The Ontario Coroner's office estimates that every day in Ottawa one person overdoses on drugs, and that once every 10 days, someone dies.
In the 12-year period from 2000 to the end of 2011, there were 405 deaths in Ottawa attributed to overdoses.
Addictions worker and former addict Carl Reinboth said Ottawa should consider a safe injection site, and that while Vancouver used to be the overdose capital of Canada with hundreds of deaths a year, the opening of a safe-injection site in 2003 has aided a decline in overdose deaths.
"Our present society cannot get rid of the addiction problem, but it can ameliorate the worst aspects of it and safe injection sites can be the front line for change," he said.
Fentanyl, prescription drugs a problem
Paramedics at the rally said they are responding to about a call every day across the city, and that while most overdose deaths used to be from illegal drugs like heroin, more and more overdoses are coming from powerful prescription pain killers. such as fentanyl and the since-discontinued Oxycontin.
"We're responding to Manotick, the suburbs, everywhere," said paramedic Paul Morneau.
"It's not just your typical person living on the street that's overdosing. It's everywhere in the community," he said.
By Steve Fischer
Source: CBC News